DATATRON - database software
You would like to organize your data in a data base simply and clearly laid out? Than you should try Datatron. Datatron is a top-quality and all purpose desktop - database software for your window pc and therefore the perfect solution for your problem. Without dealing with field length and variables you can generate any user-defined data base.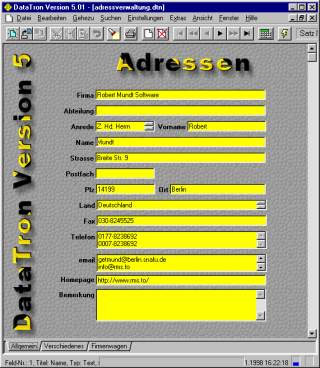 Download database software DATATRON:




Gif-Animator Animake
Animake is a gif animator and is simple to use. Animake essentially addresses itself to webmasters and those, which would like to provide animated GIF pictures from single photos.


Download gif animator Animake:




<< Cyberlab >>